What to do if you are unwell
If you develop any of the following symptoms:
Fever > Cough > Shortness of breath > Sore throat > Significant loss or change to sense of smell or taste > Any "cold and flu" symptoms
then you might have COVID and will need a test. See this page for the self-referral process.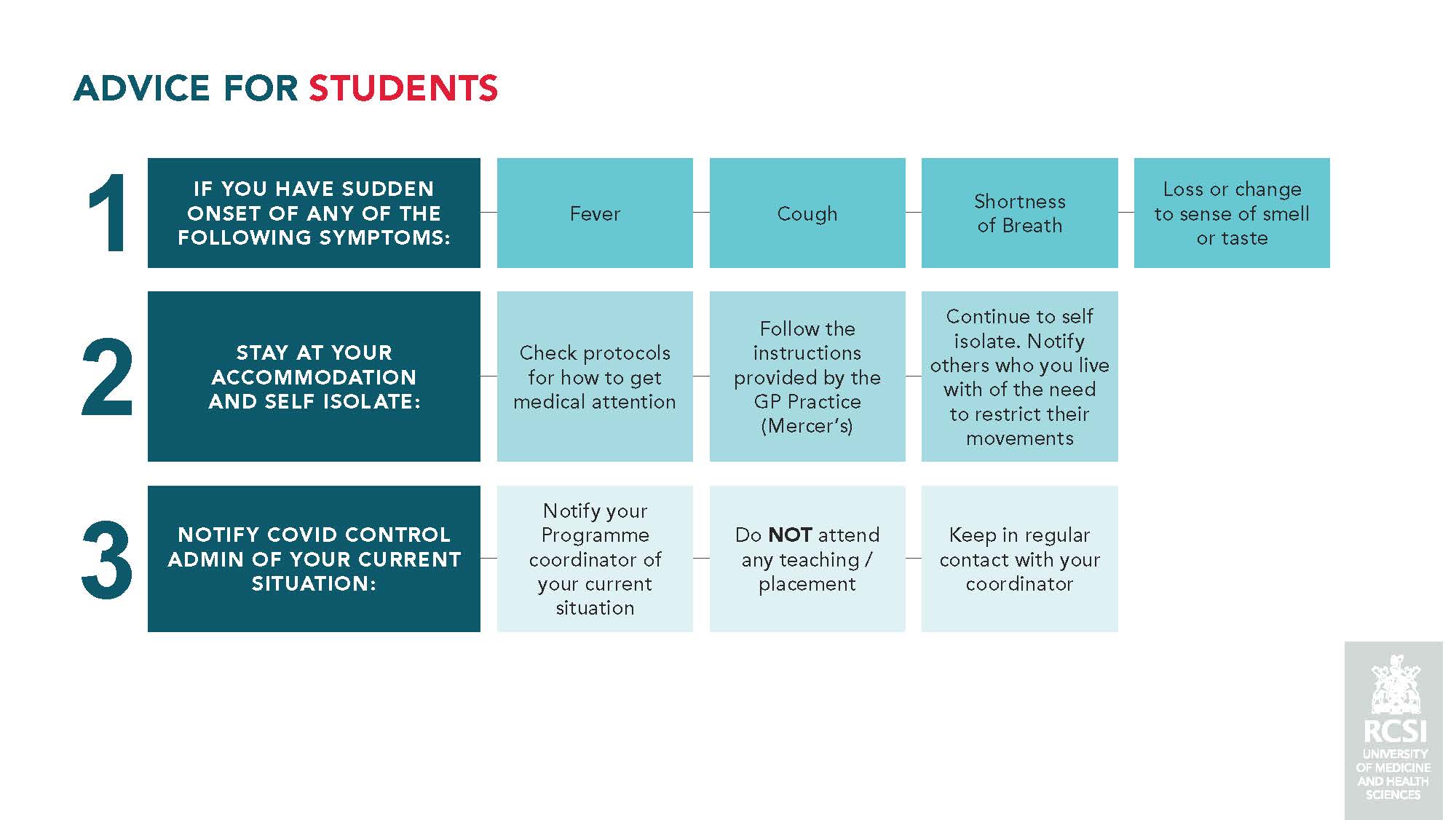 How to Contact Mercer's
IF YOU ONLY HAVE MILD SYMPTOMS, for example, slight fever, cough or sore throat, you can SELF REFER for a test. See this page for details. If you are feeling very unwell or wish to speak to a clinician about your symptoms you can use this form, or if you require urgent help phone 014022300 or 014545607 after hours.
IF YOU HAVE SEVERE SYMPTOMS, such as very high fever and/or shortness of breath, then please ring Mercer's directly on 01-4022300. If the Practice is closed, you should ring the Out of Hours medical service, DubDoc, on 01-4545607 who will advise you.
Please do not attend Mercer's or DubDoc in person unless asked to do so by a doctor, as you risk passing on infection to other patients and staff.
Telephone/video consultation
One of the doctors or nurses from Mercer's Medical Centre (RCSI's primary care centre) will ring you to offer support, evaluate your symptoms, and advise you how best to manage things at this point.
The clinician will take a history over the phone and give advice about:
how to manage your illness at home;
how the test will be carried out;
the need to self-isolate including absence from College;
what to do if your symptoms get any worse.
Most patients can be very safely managed by this type of consultation.