In the event of a positive test, please see this page, and you must undertake to cooperate fully with the medical advice given. College and/or Public Health will then need to trace and contact all your close contacts such as classmates, lecturers, flatmates, etc. For this reason you should make a list of your close contacts starting from 48 hours before your symptoms began.
While awaiting your result:
You should assume that the test might be positive until you receive a text message with the result. This means that you should isolate, and, if sharing accommodation, that your flatmates should be made aware of the situation. Here are two links to relevant information for those scenarios:
How the swab result will affect you:*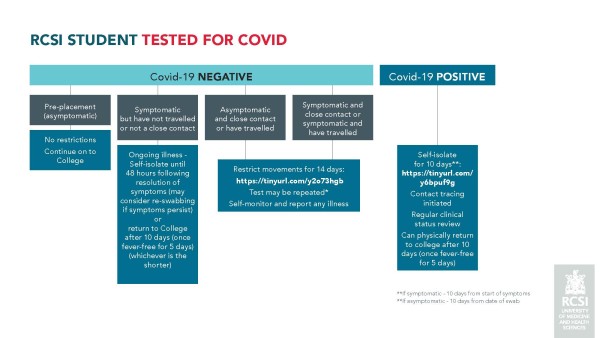 *The Covid negative pathway above refers to people who are NOT FULLY VACCINATED.
Restrict your movements and self-isolate - see this link
There are a few things you should note:
As with all tests, there is a small percentage of "false negatives", ie: the test states that you do not have an infection when in fact you do. No test is 100% accurate.
If you have contracted COVID-19, it may be some days before it shows up in the test. For this reason, you cannot be given the all clear if you have ongoing symptoms, and you may be asked to re-attend for a second test.
COVID-19 is a notifiable disease. This means that any positive results are automatically reported to the Government Department of Public Health. The reason for this is to document disease outbreaks, and to arrange testing of contacts of known cases of the disease.
A close contact is defined as someone with whom you have spent more than 15 minutes (cumulatively over the past 24 hours) at a distance of less than two metres.
Ongoing Support
If your symptoms worsen, please contact Mercer's on 01 4022300 or, if the Practice is closed, DubDoc Out of Hours service (01 4545607), so a doctor can further evaluate your status.
Mercer's will also inform the College of any positive results to allow for contact tracing, and also to arrange for you to receive a regular telephone call from our nurse-led support team to check how you are doing and give you as much support as possible, including coordinating your reintegration back into College.
Mercer's will notify Public Health of your diagnosis, as Covid is a notifiable disease. This means that you will also be contacted by Public Health to check on your wellbeing and for contact tracing purposes.
The fact that you have tested positive for Covid is relevant to other people and this information will be shared with Public Health and the Occupational Health and Infection Control department of your hospital, if you are on a clinical attachment. Any of these may contact you to clarify possible close contacts (staff and patients) and it is important that they receive your full cooperation.
It can sometimes be an anxious time waiting for results, particularly if you are unwell. However, there is a lot of support available, including the Student Welfare Officers and Mercer's. There is also a very good psychological and counselling service available to you (details here). All of these services are free.