Updated 14/01/2022: new guidelines for Healthcare Workers apply, which include RCSI Students.
covid-flowsheet-rcsi-students14.1.22.pdf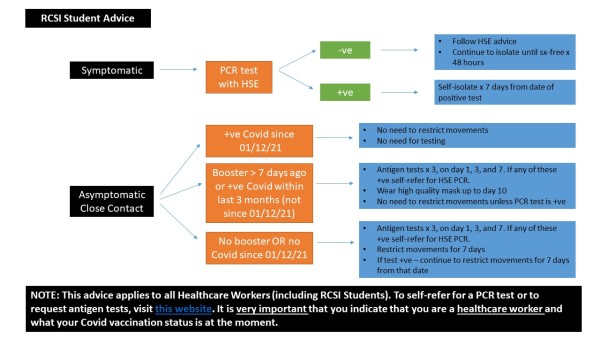 HSE contact tracing may contact you. You MUST answer their calls and follow their instructions. HSE will arrange antigen tests to be sent to you. Further information here. You can also purchase these easily in pharmacies and many supermarkets or order them yourself via the HSE here.
If you test positive on any antigen test, you must self-refer for a PCR test via this link.
If you test positive, please let RCSI Covid Control know immediately,
RCSI CCA will contact you and guide you in relation to your classes and placements.
If you test positive, it is your responsibility to immediately notify any RCSI student or staff member who is your close contact, especially any students with whom you live. They will have to follow the process as outlined above, including notifying RCSI Covid Control that they have been identified as close contacts. You must also notify Covid Control of these close contact names.
**Some of our students who have been fully vaccinated and have no symptoms, but who have been identified as close contacts, have had their access to clinical attachments stopped by hospital Occupational Health departments for up to two weeks. This is outside the control of RCSI. For this reason, we advise that all students should continue to limit their social interactions.
If you are due to attend a clinical attachment in Beaumont Hospital and you have been identified as a close contact, you must NOT attend until you have discussed this with your clinical tutor or the Occupational Health Department in Beaumont.
You may not get the same level of protection from the vaccine as other people if you are immunocompromised due to disease or treatment, have cancer or have chronic kidney disease.
If you become symptomatic, restrict your movements immediately and see this page for more information. If you are contacted by the HSE and asked to restrict your movements after a close contact, then you should follow their guidance and contact Mercer's and RCSI. This may be due to a concern about exposure to a Variant of Concern (VOC).
IF YOU ARE CONCERNED THAT YOU MIGHT HAVE BEEN IN CONTACT WITH SOMEONE WITH COVID
Please read this link. You should be able to decide whether you were a CASUAL contact or a CLOSE contact.
Even if you have been fully vaccinated, it is important to remember that you can still transmit the virus to others (but remain asymptomatic yourself), and also that vaccination is not successful in at least 5% of people.
For these reasons, if you become symptomatic, then the same advice and restrictions that were previously in place still apply.
These guidelines are being updated regularly, so please continue to check back for new information.
NATIONAL COVID TRACKER APP
All students MUST download Ireland's national Covid tracker app. This will alert you if you have been in close contact with someone who has tested positive for Covid and will allow Public Health to contact you and advise you as to what you should do. You can find out more information and how to download it here, and details on how it works here.
If you are identified as being a close contact with a Covid positive individual and you are NOT FULLY VACCINATED, then you will not be allowed to attend ANY / ALL RCSI SITES for a period of 14 days from your last contact with that person.
It is extremely important that you minimise your risk of becoming a close contact by strictly following the advice in relation to limiting your contacts and social distancing. Please note that repeated exclusions from clinical placements is likely to have an impact on your ability to achieve the learning outcomes and progress on time.